I'm always on the hunt for a delicious protein or bliss ball recipes that require zero baking 'cause lawrddddd save me... I can't bake to save my life!
Bliss balls.
Energy balls.
Protein balls.
They are all pretty much the same and make the perfect snack on-the-go. When done right, they offer a satiating combination of protein, carbs, and fats, plus they're totally customizable and portable.
Pair one or two with a piece of fruit before or after a workout to save yourself the money and long ingredient lists of store-bought bars and bites. Here are 6 recipes I'm currently loving that are the easiest and tastiest way to give your body a boost.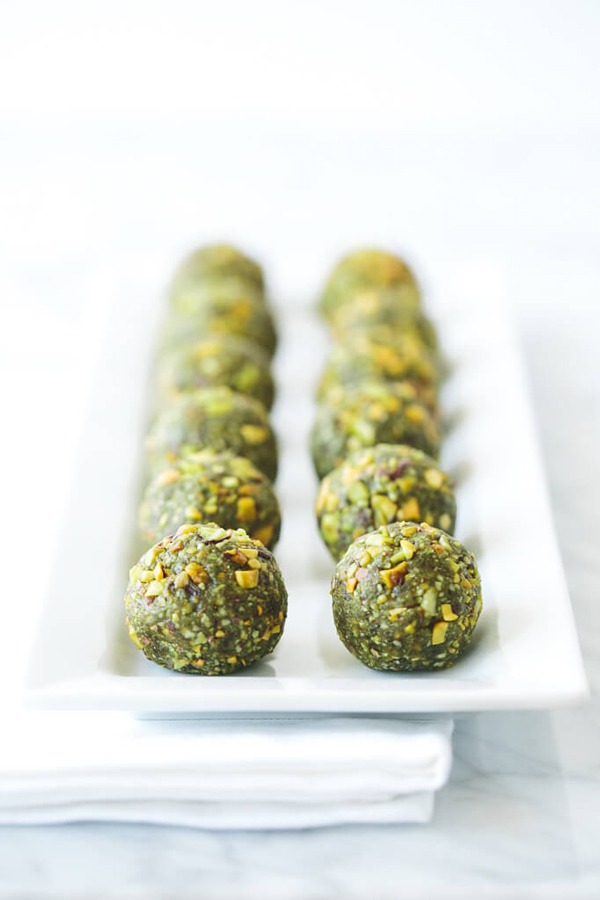 Matcha Pistachio Bliss Balls
These Matcha Pistachio Bliss Balls delicious treats from @downshiftology are a great way to work in one of the best teas for weight loss into your diet. The earthy tones of the matcha powder and nutty flavor of the pistachios compliment each other so perfect!
Almond Coconut Protein Balls
Chocolate Sunbutter Superfood Balls
Craving a good ol' slice of carrot cake but would rather skip out on the belly roll? Look no further, these Carrot Cake Bliss Balls from @AnaGoesFit pack a ton of flavor but without all the unnecessary sugar and not-so-go-for-you ingredients.
The classic, chocolatey goodness of your favorite candy bar—but none of the belly fat-inducing consequences. Don't let the name full you, these Brownie Fat Bombs from @RealFoodGypsy are rolled up in a ton of good-for-you ingredients.
Cashew Coconut Carrot Cake Bites
These Cashew Coconut Carrot Bites from @Twist_of_Lemons come with all of the coconutty, carrotty taste you love! And, they are pretty darn amazing. You'll love that they only have 9 simple ingredients and will satisfy your slice of cake craving.